He who experiences the unity of life sees his own Self in all beings, and all beings in his own Self, and looks on everything with an impartial eye.
-- The Buddha
Places near or in Chiang Mai worth visiting for anything from an hour or so to a day or more -- in no particular order: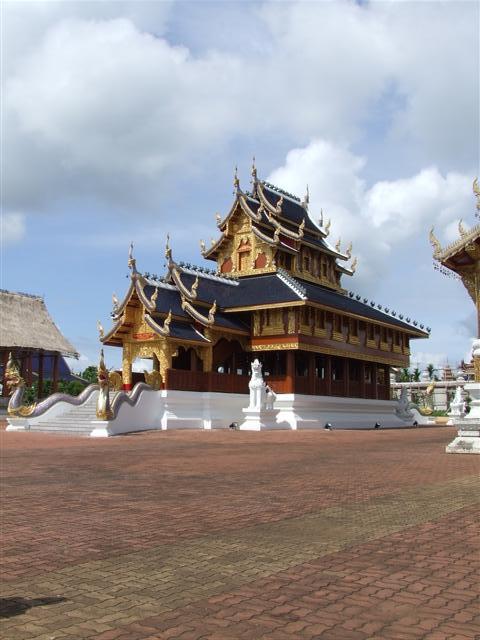 Mae Ngat dam lies to the North of Chiang Mai, just outside of Mae Tang. Look out for the big concrete boat shape on the right, Turn right there and follow the road for about ten kilometres.
It is a huge reservoir with mountainous sides sloping steeply into the water. Hire a boat and go out to one of the floating restaurants, relax and catch lunch. Fishing rods and bait are available there.
Take a dip if you want, but be aware that the water is very deep. They also have kayaks for hire and lifejackets to fit all sizes. My little children have had great times swimming in their life jackets from the age of about two years.
There are also several guest-house-boats available for hire there. Very basic but the ideal place to chill out and relax. Each normally has two or three rooms for hire and come with a servant who cooks basic food and generally looks after you. He/she also has use of the two way radio to call the boat to take you back to shore etc. Electricity, if any, comes from a generator and there are neither telephones nor mobile phone signal, so you can leave normal life back in the car park! (It is best not to stay there at the weekend. University students come in large numbers and can be quite rowdy at times, with their guitars and boom-boxes.)
Chang Dao cave, further on the same road is good for a few hours. The children love feeding the fish there. There are vendors selling fish food, so no need to worry about bringing your own!
The Nest is a worthwhile stop off, near the caves. Good food in an idyllic bamboo bungalow setting.
Wat Umong just off Suthep Road is well worth spending an afternoon. Very cool and peaceful. If you walk through to the back and follow the trails, you can find a small open zoo. Dwarf deer roam the trees with peacocks and guinea fowl, you might also see a gibbon or two swinging through the trees. This is a great place for a picnic.
Huay Thung Thaew lake, close to Chiangmai on the Canal Road, KM 8 north towards Mae Rim is one of the best deals in the area. Beautiful. There are numerous spots to choose from, depending on whether you want peace and quiet, eating, swimming, kayaking or peddle boating. A place where kids have plenty of room to play, and where parent's chances for a quiet momentary respite from kids is a good possibility. They also have a bicycle track and bikes for hire for those who need to work off their lunches.
The Jungle Beach - Ob Khan Gorge is about twenty or so kilometres south of Chiang Mai along the canal road. From Chiang Mai you need to follow the Canal Road, past the intersection with the Samoeng Road and continue on for another 7 to 8 kms. You will get to Ban Nam Phrae village. Turn right and follow that road. After a few kilometres you will drive past a branch of the Suan Prung mental hospital on the left of the car. Keep on the road, it will shortly turn into an unpaved dirt track. Eventually you will arrive at the entrance of Ob Khan National Park where you need to sign in and give details of your car and how many people are with you. Having signed in, continue on the road. After a couple of kilometres or so, you will need to turn left and cross the valley. This is where you enter the Gorge proper. A couple more Kilometres and you will reach the car park at the side of the river.
It is best to go in the dry season. Beautiful rock pools for children to play and swim with deeper areas for the parents to work out. The normal coterie of Thai food vendors make their appearance at the weekends and public holidays.
Doi Suthep temple is a must see. Follow Huay Kaew road out, go past the zoo and up the mountain. There are three waterfalls before you get to the temple. The Montrathan falls, the third, charge most foreigners 200 Baht to enter. Heavy persuasion, especially if you speak Thai, should enable you to get in for the normal, Thai, 20 baht. The first two waterfalls are free.
(Doi Suthep temple is heavily covered everywhere, so I won't add much here except to say it is worth going up to, albeit somewhat over exposed to tourists nowadays.)
If you continue and follow the road past the temple you will pass the royal palace, the grounds there are open to visitors when the royal family are not in residence. Worth an hour or two to walk around and admire the gardens. Further on you arrive at a tourist trap hill-tribe village, full of little more than souvenir shops with "Made in China" Hilltribe Handicrafts. If, however you bear right, you can miss the village and keep going up-up-up. You will reach a pleasant area where it is worth stopping for a picnic or just to chill out and admire the view. Carry on up the track and you will reach a t-junction, where you can choose to go down to Samoeng or to Huay Thueng Tao lake, missing the entrance where you have to pay a 10 baht entrance fee. Four wheel drive is recommended however.
Chiang Mai university campus is a nice area to walk around. There are several cheap restaurants on campus, which welcome non-students.
Further away the Chiang Dao area is nice, as well as Phrao.
Take a picnic on the morning slow train to the Koon Tan National Park (or on to Lampang). It stops everywhere and goes through some beautiful mountain scenery. This is great is fun with young children. You can catch a bus or another slow train back during the afternoon.
If you go out to Sankampaeng, just before you reach the Chiang Mai-Lamphun Golf Club you will find a small lake with a few restaurants. It is similar to Huay Tung Tao but less well known and somewhat quieter. It takes between half an hour and an hour to get there from Chiang Mai centre, depending on your speed and knowledge of the area.
There are several Hot Springs near Chiang Mai.
The Sankampaeng Hot Springs is about 23 kms. East of Sankampaeng. Tel. 0 5392 9077. They have a beautifully warm, somewhat-sulphurous swimming pool and a coterie of Thai madams waiting to massage away your aches and pains. There are also private pools for hire and a hot stream to lie in. The normal chicken and quail eggs are available to purchase for you to cook yourself in the boiling spring water.
The Roong Aroon Hot Springs, are close by and somewhat less commercialised with fewer of the amenities of the Sankampaeng springs above. They have a stream feeding a series of rock bathing pools, which get slightly cooler the further you move away from the spring.. Tel. 0 5324 8475.
The "Samoeng Loop" makes for a good day or two out, with some pleasant guesthouse resorts for an overnight stay or two.
If you start from Mae Rim, the first place you will find will be the Four Seasons hotel. One of Chiang Mai's finest 5 star(+) establishments, with prices to match.
Starting from the Hang Dong road, you will find it less commercialised. One place of note here is Kritsada Doi. Stunning gardens with restaurant and rooms for hire. This is one of the most popular days out for Thai visiting from Bangkok and other parts of the country.
(Ryan is probably better equipped to fill in the details on the Samoeng Loop. It is his main stamping ground.)
Other Information
HEALTH CLUBS
Ban Sabai, 17/7 Charoenprathet Rd., Tel. 053 285204-6. Spa for health and well-being. Open daily.
Dr. Petchara Lohwitaya, Acupuncture treatments McCormick Hospital, Kaew Nawarat Rd. Tel. 0 5321 4311, 0 5324 1010.
Tai Chi Chaun, an intensive 10-day course (60 hours) three sessions daily: 7.00 to 9.30 am, 1.00 to 2.00 pm or 4.00 to 6.30 pm. Tel. Keith 0 5330 6012 ext. 201
Yoga Center, 65/1 Arak Road., Prasingh.
English information at Tel. 0 5327 7850, 0 5381 4206.
BOWLING
Bully Bowl, Kad Suan Kaew Complex, Huay Kaew Rd
Chiangmai Bowling, 205 Sriphoom Rd., Tel. 053 219207. Open 9.00 am.-2.00 pm.
UFO Bowling, Lamphun Rd., behind Mae Ping Police Station. Tel. 05380 1446-9.
JOGGING PARKS
Queen Sirikit Botanical Garden, Old Sameong Rd., Mae Sa, Tel. 0 5329 8171, 0 5329 9753.
Huay Kaew Arboretum, Huay Kaew Rd., near Zoo, 8.30-17.00 daily.
Huay Tueng Thao, Agriculture Development Center, Mae Rim Highway., km 8.
GOLF COURSES
Chiangmai Golf Driving Range, Airport Rd., Intersection Tel. 0 5328 2838,0 5328 3160.
Chiangmai Lamphun Golf Club, Tel. 0 5320 1606-7,0 53 88 0880.
Green Valley Golf & Country Club. Chiangmai -Mae Rim Rd., Tel. 0 53 29 8249.
Gymkhana Club, Lamphun Rd., Tel. 0 5324 1035.
Lanna Golf Course, Mae rim Rd., Tel. 0 5322 1911
Royal Chiangmai Golf, Mae Jo - Phrao Rd., Tel. 0 5384 9301.
Sankampaeng Golf Driving Range, Borsarng intersection, Tel. 0 5333 8309.
OTHER SPORTS
Lanna Sports Center, Chotana- Mae Rim Rd., Tel. 0 5322 1911, 0 5321 1556.
Horse riding, contact Travel Shoppe for more information at Tel. 0 5387 4091, 05387 4280 or go out to the stables in Rachamankala Park on the Mae Rim road.
Oriental Balloon Flight, 9 Moo 4, Floraville Housing Estate, km. 9, Chiangmai-Doi Saket Highway, Tel. 0 5339 8609. Fly daily.
Discovery Adventure on pilot assisted 2-man microlight 20-min flight. Call 0 5386 8460, 0 5386 7646. 0 1952 5300. 
Join Exciting off road mountain bike tours available in 1 to 7 day excursions Wild Planet Adventure tours Tel. 0 5327 7178. Charoenprathet Road
Cruise Along the Mae Ping River in a long tail boat. All day departures from Wat Chaimongkol, Charoenprathet Rd. Tel. 0 5327 4822.
Rock Climbing at The Peak Plaza on Changklan Rd. Tel. 0 5380 0567. Or contact them to climb challenging Doi Muang On.
Kayaks and row boats available for rent from the Rowing Club at Forestry Department office on Charoenprathet Rd.
Gymkhana Club, Lamphun Road., Tel. 0 5324 1035. No horses, but they have tennis, a nine hole golf course and other amenities.
Physical Education College, 68/1 Sanam Gira Rd., Tel. 0 5321 3269, 0 5321 1446, 0 5321 7708.
Scheduled Thai boxing evening matches. Call Tel. 0 5320 7087
Kiat Busaba/Lanna Muay Thai, 64/1 Soi Chang Kian, Huay Kaew Rd., Tel. 05389 2101. Training seven days a week. 6.30 -9.30 am and 4-7 pm. All are welcome from novice to professional.
Bungy Jump, 299 Moo 1, T. Mae Ram, A. Mae Rim Chiangmai. Open Daily. Tel. 0 5329 8442, 0 1894 7698, 01 671 8624. 
Go Kart Track at the Chiangmai Speedway, 254 Moo 8, Chm-Hangdong Rd. , Tel. 0 5343 0059/60.
Microlighting. View Chiangmai from the SKY! Discovery Adventure in pilot assisted 2-man microlight 20-min flight. Call 0 5386 8460, 0 5386 7646. 0 1952 5300. 
Off Road Mountain Biking. Join exciting tours from 1 to 7 day excursions
Wild Planet Adventure tours Tel. 0 5381 844. 73/3 Charoenprathet Road
Mountain Design (Thailand) and Mountain Adventure Club (MAC). Full adventure trip, adventure training course and guiding club. Tel./Fax 053-800187 or Mobile 01-3665882, 09-5593934.
---